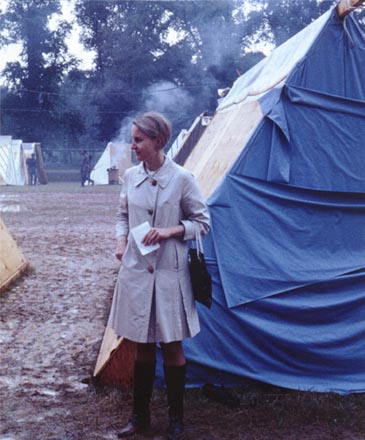 President Johnson had been elected, and the inaugural celebrations were in full swing. One young reporter was determined to cover it all, including a private party hosted by socialite Gwen Cafritz at her elegant home on Foxhall Road.
Not on the press list in the hands of White House staffers, she was soon spotted and politely, firmly thrown out by press secretary Liz Carpenter and social secretary Bess Abell. That didn't stop her. Next day, The Evening Star carried a story on Cafritz's party as seen from a "very cold curbstone." The byline read: Ann Wood.
"The editor had assigned me the story, and since they didn't let me do it from inside, I did it from the outside," says Wood, who is no longer a reporter, but runs a successful matchmaking firm.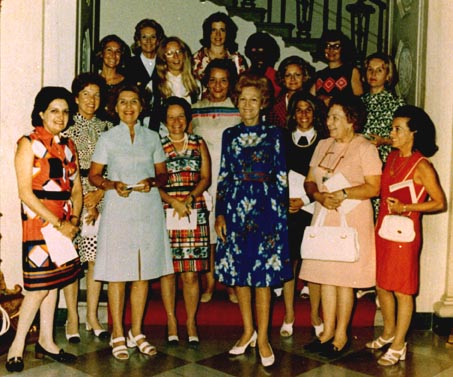 The persistence and ingenuity that helped Wood get that story have stood her in good stead throughout her varied career. She's tried it all - a career in journalism, years spent traveling through Asia and Africa by rail, stints in public relations and event management. Now she spends her days matchmaking. "To be happy in life, you need to keep re-inventing yourself," says Wood, sitting in her neat, functional office with its photo-covered walls and quiet view of a well-cared-for garden.
At first Wood comes across as calm, organized and somewhat forbidding, but soon a warm, unconventional person with a wry sense of humor starts to emerge. Her clothes, too, give an insight into her personality, a string of pearls and a cream silk blouse worn over - not the expected pleated formal trousers - but a pair of dark stretch slacks and sensible low-heeled shoes, because she cycles to the office.
Just as today there aren't many women who cycle to work, back in the 70s there weren't that many women who held pilot's licenses. "I took up flying to amuse myself, because I was getting frustrated with the glass ceiling at the office," says Wood, with a smile, "so I started taking these really long lunch breaks."
After a couple of years of lunch-break flying, she took up lunch-break protesting. She served as treasurer of three popular carnivals staged by journalists as protests against the Gridiron Club, which limited membership to fifty Washington newspapermen.
Protesting was successful in opening the club to women. UPI's Helen Thomas became the first in 1975. AP's Frances Lewine was admitted in 1976. She invited Wood to the 1996 Gridiron dinner in recognition of efforts toward equality begun twenty-five years earlier.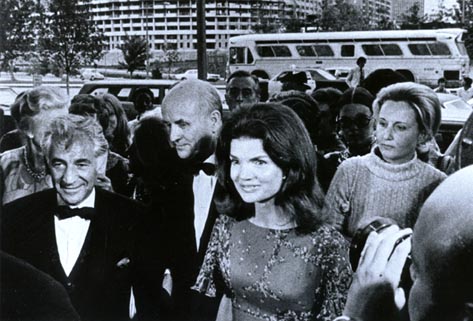 Protesting had been disastrous for Wood. Bureau chiefs lack appreciation for insubordination. Hers was on the Gridiron membership waiting list. She went to London and from there on to Africa and India, spending two years making her way leisurely around the world, writing for various publications from exotic places. "I didn't know that there was actually a place called Timbuktu until I got a letter from Ann postmarked there," says Bess Abell. Wood returned to the United States in the early 80s and spent a few years with Abell's event management company.
With the demand for her services, which begin with an appointment to talk with the person, she can - and does - select her clients carefully. For example, busy people may need to change appointments, but if someone just doesn't show up, there's no second chance. "Manners that reflect consideration of others are important. Without them a person would be bad news for anyone," she says. Intelligence is important. Money, on the other had, isn't a big criteria. It can change. A good education, attitude and character are permanent assets.
Her intuitive ability to judge people's characters is a big asset - and well-known among her friends. "I'd say Ann's accuracy quotient when it comes to judging people is about 100 percent," Abell says. But Wood hasn't always been this good at judging people. When she first came to Washington from Wellesley college, which she dropped out of because she had even less freedom there than she did at home, she did exactly what most parents feared their daughters would do, given too much freedom. She married the wrong man.
"He was the wayward son of a distinguished New York congressman, alcoholic, with three marriages in his past. My family strongly disapproved, but I thought I could help him," she says, mocking her own naiveté. "He was very handsome and, in fact, the most charming person I'd ever met and much in demand as a tennis partner - when he was sober." She divorced him after three years.
She went to Alabama where the residency law was easy, allowing immediate divorce, if you said that you were moving there. Though it was unlikely anyone would check to see whether she actually did, Wood's very conservative father and his lawyer insisted that she do so. "I stayed in Mobile for eight months to prove I hadn't lied to the court under oath."
She returned to Washington and began looking for a newspaper job, a logical choice in her family. Her grandfather was a small town Illinois newspaper editor. Her father began as suburban reporter for The Chicago Tribune and retired as chairman of the Tribune Company. A brother was business editor of The Los Angeles Times. She landed a job as 'copy boy' with The Washington Post, and was soon promoted to 'head copy boy.' "Now they're called news aides," she says with a laugh.
Then she wrote about parties and features for The Evening Star before joining The New York Daily News bureau. Her Evening Star stories were light pieces on Washington's social scene. She also wrote a popular column about Washington's large diplomatic community. Her report on a party given at the Algerian Embassy began, "The Russian ambassador sang. The French ambassador did imitations and danced a pas de deux with the Spanish ambassador's wife." Articles like that never make you popular with the host. "When I wrote about parties where well-known people let their hair down, editors loved it, but I was never invited back," she said.
Her partying days are over. "In Washington people ask what you do. When I say I'm a matchmaker, I find myself suddenly involved in consulting right there."
Reprinted by permission of The American University
Ms Ghosh holds a B.A. in economics from Delhi University, an M.S. in economics from London University, and an M.S. in journalism and public affairs from The American University. Before joining Blue Heron Research Parners in 2006, she was a reporter at Forbes magazine, Time magazine and the Business Standard of New Delhi.